The first word that comes to mind when you see the interior of Fort Worth's newest branch of Worthington National Bank is "classic." Inside the two-story beige brick building on Edwards Ranch Road, west of downtown in Clearfork, the design speaks to one of the bank's key tenets: "preserving Texas heritage, history, and art."
Worthington National is among the few locally owned and operated banks in Tarrant County. Unlike the big banks, it emphasizes relationship-based banking — and the interior design of the bank reflects the style of an era when that's how everyone did business.
Solara created the doors and some of the lighting for the Sundance Square office of Worthington National. For this project, which was designed and built by Fort Worth's Muckleroy & Falls, Solara was tapped for all of the custom ironwork: doors, interior and exterior lighting, railings, teller windows, and more.
Solara's work for Worthington National Bank branch can first been seen with the exterior sconces. The iron lanterns are a version of our Barcelona light design. A Spanish-influenced light is a natural fit for the Texas location.
Customer banking areas are lit with Solara's Novara chandelier. With opaque glass, the bowl-style fixtures help to create a warm and welcoming atmosphere.
Customers enter the bank through double doors. With a half oval at the top, five iron bars over clear glass, and column detailing on either side of the glass, the designs were created specifically for the bank.
The classic iron door pulls were also designed by Solara.
Teller windows are a throwback to the days when banks used iron bars instead of bulletproof glass to separate banking professionals and customers. Solara's framed design includes the same fluted-column detailing and Victorian rosettes as the stair railings.
The design for the iron stair railings makes a statement with fluted-column balusters finished with Victorian rosettes.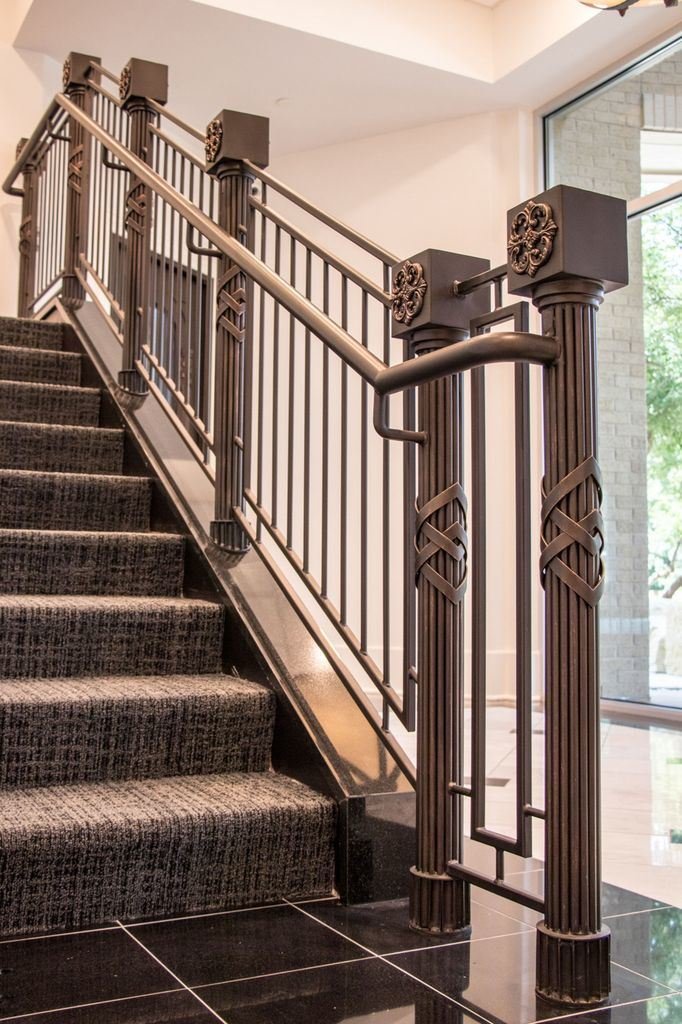 Office doors echo the double-door design.